Membership
AAWCC-RCC is changing and growing and the chapter is seeking to build membership and receive members' ideas, energy, skills, education, and experience as we set and prioritize goals, assess our strengths and weaknesses (challenge), plan events and fundraisers and champion and celebrate each other. 
Interested in joining the AAWCC Chapter at Rogue Community College?  It's easy and we'd love to have you!  All we ask of members is to volunteer 2 hours of their time for one of our fundraising events within the year. Please follow the steps.  The cost is minimal - $15 annually gives you access (January 1st – December 31st). You can use your RCC professional growth funds to join our membership, just ask us how!
You, your career, and RCC will benefit from the many opportunities offered by AAWCC!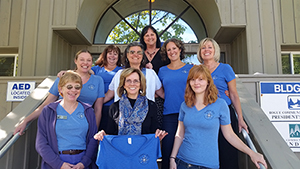 September AAWCC-RCC hosts board luncheon with the new college president, Cathy Kemper-Pelle. Photo compliments of Curtis Sommerfeld.