Membership
AAWCC-RCC is changing and growing. The chapter is seeking to build membership and receive members' ideas, energy, skills, education, and experience as we set and prioritize goals, assess our strengths and weaknesses (challenge), plan events and fundraisers and champion and celebrate each other. 
Interested in joining the AAWCC Chapter at Rogue Community College?
It is easy and we would love to have you! The membership period runs from January 1 through December 31. All we ask of our members is that they volunteer 2-hours of their time for one of our fundraising events within the year. You do not need to volunteer all 2-hours at once.
NEW! Student membership level is $5/year.
Staff membership level is $20/year.
RCC employees can use their RCC professional growth funds to join our membership! We can help you. Just ask us how!
---
RCC employee guidelines regarding pay and participation:
Activities and Events: Attendance at activities or events hosted by AAWCC are voluntary and are considered unpaid time. Staff who assist in hosting these events are also participating on a voluntary basis. Supervisors are strongly encouraged to support employee participation in these events by approving vacation or contract leave time or arranging for a flexible schedule, also known as 'flex' time (i.e. 1 hour off to participate in exchange for working 1 hour at a different time).
Annual Conference and Annual Winter Retreat:  Attendance at the AAWCC annual conference and annual winter retreat are considered approved professional development activities. Employees may use professional development funds if available. Time is considered paid work time.
If you have questions about these guidelines, please contact Jamee Harrington, Director of Human Resources.
---
You, your career, and RCC will benefit from the many opportunities offered by AAWCC-RCC!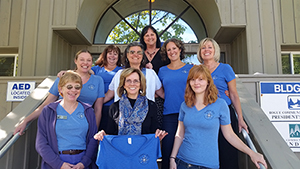 September 2016 AAWCC-RCC hosts board luncheon with the new college president, Cathy Kemper-Pelle. Photo compliments of Curtis Sommerfeld.